Fattoush – Traditional Lebanese Mixed Salad
2018-01-27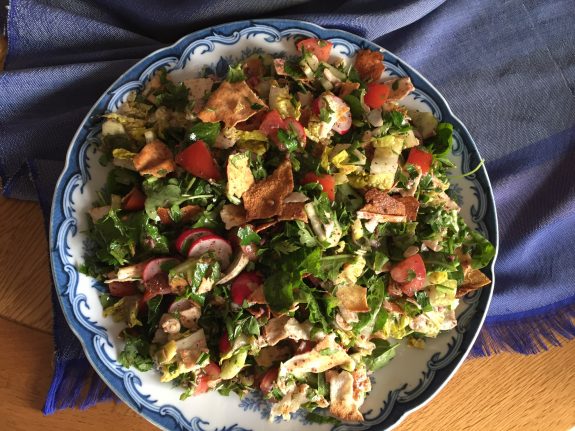 This is another famous Lebanese salad that initially was made by peasants to use up leftover raw greens, herbs, tomatoes…. and, last but not least, old (dry) Lebanese flat bread. Nowadays, it is very popular and to make it, we toast the bread (Some even fry the bread) then tear it into bite size pieces.
There is one essential ingredient that you use in this salad which is SUMAC. It derives from the flower of a plant found in Lebanon in the wilderness. The flowers are dried then powdered and used as a spice in many Lebanese recipes. The taste being very tangy, it replaces or complements lemon juice.
It is available now in European supermarkets or you can buy it online.
This colourful and refreshing salad is also part of the Lebanese mezze.
Ingredients
2 medium size tomatoes, diced
1/2 large cucumber or 2 small, peeled and sliced
Few leaves of romaine salad, shredded
1 green bell pepper, chopped
A big handful of rocket leaves, cut in two if big
A big handful of coarsely chopped flat leaf parsley (big stems removed)
A smaller handful of coarsely chopped mint leaves
Leaves of 1 small bunch of purslane ( if available)
4 spring onions or 1 medium white onion, thinly sliced
4 or 5 radishes, cleaned and thinly sliced
A big handful of toasted Lebanese or pitta bread
1 big tbsp of sumac
Juice of half a lemon or to taste
1 small splash of vinegar
2 cloves of garlic, minced into a paste
3/4 tbsp of olive oil, or to your liking
1/2 tsp of allspice
Salt & pepper, to taste
Please note that the quantity of the ingredients can vary, depending on personal tastes.
Method
Step 1
Wash thoroughly all the vegetables and herbs. Dry them before chopping, shredding or slicing... Once done, put them aside in a salad bowl (except for the onions and garlic which will be added to the dressing). This preparation can be made well in advance as the dressing is only added before serving.
Step 2
Grill the Lebanese flat bread in the oven until nicely coloured. Once cooled, tear it into bite size pieces and put aside.
Step 3
In a small bowl, combine the sumac, lemon juice, vinegar, garlic paste, olive oil, salt and pepper and finally the onions rubbed with the allspice. Taste the dressing and adjust to your liking.
Step 4
Minutes before serving, mix the vegetables and herbs with the grilled bread and the dressing. Mix well and serve as a side dish or part of the mezze.