Prawn or Shrimp Cocktail
2020-04-23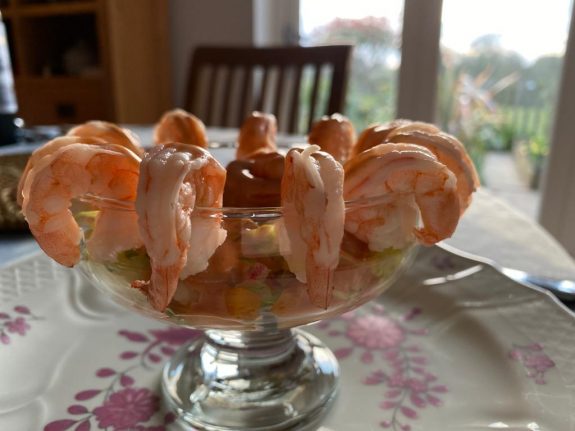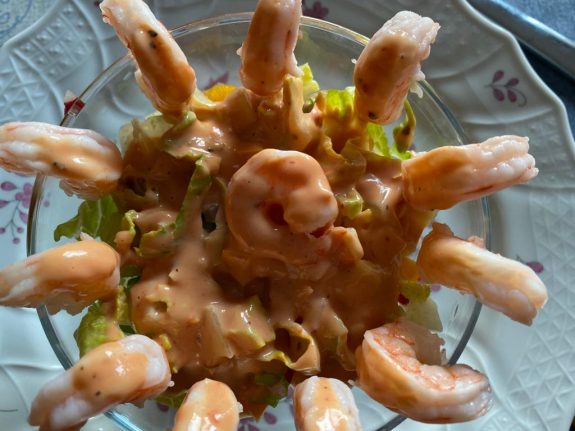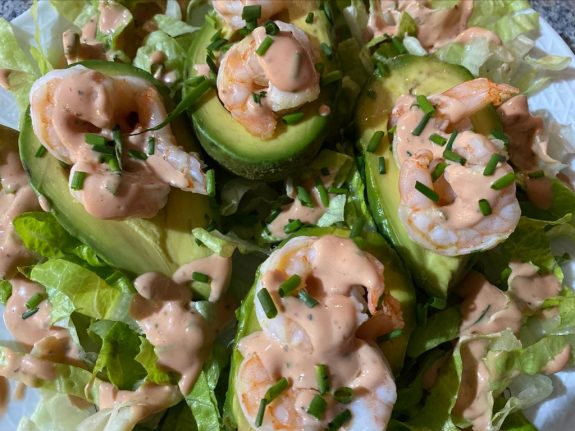 Prawn or shrimp with cocktail sauce is a classic retro starter, introduced in North America in the 20s, and in the 60's in the U.K. It became a huge culinary success worldwide and still remains nowadays a great treat.
In U.K., the sauce is known as Marie Rose sauce and is slightly different from the cocktail sauce.
You will have the choice, here below, to choose the sauce you prefer.
Please note that the amount of the stated ingredients are for guidance and can be altered to your liking.
Ingredients
Minimum of 6 cooked King prawns (or more shrimps) for 2 glass dessert gobelets or avocados
About 6 Lettuce leaves, washed and finely trimmed
Classic cocktail sauce: 4 or 5 heaped tbsp of mayonnaise
2 or 3 tbsp of ketchup
A squeeze of lemon juice
1/2 tsp of Tabasco sauce or a pinch of chili powder
1 tbsp of whisky or cognac (optional)
A pinch of Black pepper & salt
Marie Rose sauce: add to the above ingredients 1/2 tbsp of Worcestershire sauce and 1/2 tbsp of horseradish
1 ripe avocado (if using instead of gobelets), cut in 2 and rubbed with lemon juice
Method
Step 1
Mix together, in a bowl, all the ingredients for the sauce of your choice. Place the shredded lettuce in the bottom of the gobelets then add the sauce on top mixing very lightly (you need to have the sauce visible on top of the lettuce to dip the prawns in it). Place the prawns around the top of the gobelets (see picture). Chill at least for 1/2 hour before serving.
Step 2
If using avocados instead of the gobelets, start by rubbing the avocado halves with lemon (to avoid oxydation) then place them on the serving platter, on the shredded lettuce which has been mixed with some of the sauce. Finally, top the avocados with the prawns and the rest of the sauce. Chill for 1/2 hour or more before serving.