Watermelon and Feta Salad
2020-06-11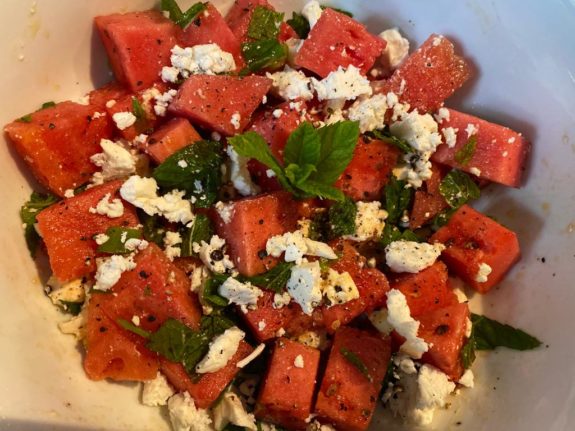 We are never sure the watermelon we just bought is going to be really sweet. We may have some hints but nothing is sure. I don't like to throw good food! Therefore, I decided to make a salad with the watermelon that would be red but not sweet enough.
I thought that a combination of sweet, salty & tanguy and aromatic will work well. I tried it and it worked perfectly! The salad was exciting, refreshing and deliciously good!
Wether it's sweet enough or not, watermelon has many health benefits! It's anti inflammatory, it's anti cancer, it helps prevent macular degeneration, it's good for the heart, it's diuretic and last but not least it is a great source of lycopene and other antioxidants, vitamins, and amino acids. Lately, some studies say that watermelon may be a natural Viagra 😉!
Ingredients
Around 600g of watermelon, peeled and cut into cubes
100g of Feta cheese or any other white & salty cheese, crumbled
2 spring onions, finely chopped
A handful of fresh mint leaves
2 tbsp of white balsamic or cider vinegar
3 tbsp of olive oil
Fresh Chili, finely chopped (optional and to taste)
Black pepper and salt, to taste
Method
Step 1
Put all the ingredients, except the salt, in a salad bowl and mix delicately with your hands to keep the watermelon pieces whole. Prepare the salad at least half an hour before serving. Add the salt right before serving the salad.