Rice with fried Vermicelli
2018-10-11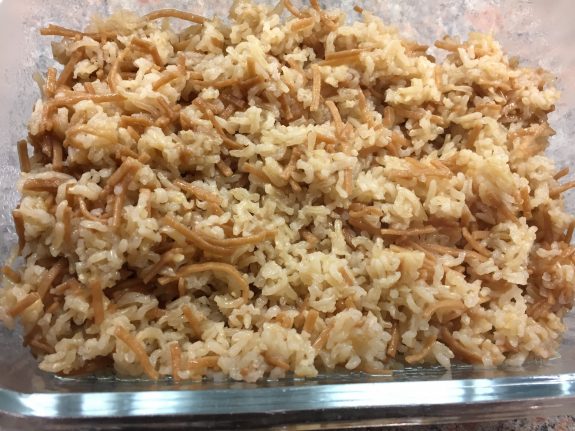 Once you taste this Lebanese style rice, you will be addicted to it. The fried vermicelli gives it a great nutty taste and aroma.
If the vermicelli you bought is long, break it into smaller pieces before using it.
Ingredients
1 cup of raw rice*, soaked before hand (1/4 cup of raw rice (long grain) per person
2 cups of water
1 large handful of broken vermicelli
2 tbsp of olive oil or butter or a combination of both
Salt, to taste
* I use whole basmati rice
Method
Step 1
Drain the soaked rice. Put the butter and/or oil into a pan over a medium high heat then add the broken vermicelli. Stir to coat and keep stirring until the vermicelli is golden brown. Add the rice, water and salt. Bring to a boil then immediately lower the heat and cook the rice, lid on, until all the water has been absorbed. Fluff with a fork and leave it to rest for 5 minutes before serving it.