Butter Beans Salad
2019-07-30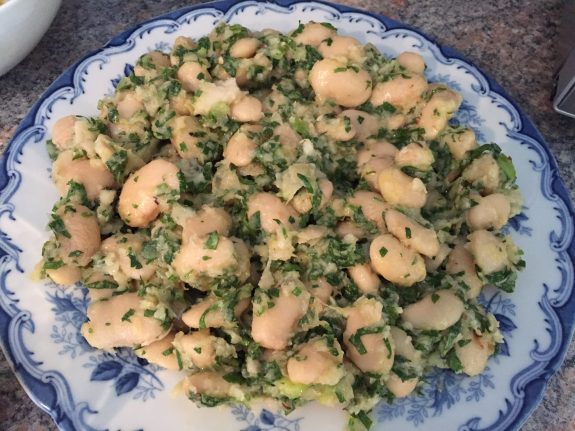 This is my version of this Lebanese style beans salad.
Butter Beans (also known as Lima beans) are large, flat and white dried beans. It's difficult to find fresh butter beans (and hence the use of dried beans).
They have a buttery texture and are a good source of fiber, high quality protein, iron, magnesium and other minerals. They are considered as highly nutritious!
They need to be soaked in water, overnight or, at least, 8 hours prior to cooking. I recommend to add 1 tbsp of bicarbonate of soda in the soaking water (It will shorten the time of cooking).
These beans may generate a lot of foam during cooking so do not cook them in a pressure cooker. And do not add any seasonings or salt until they are really cooked and tender.
PS: you can use other white beans if you prefer!
Ingredients
250g dried butter beans, soaked in water overnight
A big handful of fresh parsley, finely chopped
1 small handful of fresh mint leaves, finely chopped
2 or 3 spring onions, finely chopped
3 cloves of garlic, mashed
Lemon juice, to taste + 1/2 tsp of grated lemon zest
2 or 3 tbsp of olive oil
Salt and white pepper, to taste
Method
Step 1
Rinse the soaked beans then put them in a pot with enough water and boil on medium heat until cooked and tender.
Step 2
After draining and cooling the beans, put them in a salad bowl together with the other listed ingredients. Mix delicately (to keep the beans whole as much as possible), taste, adjust if needed then refrigerate for minimum 1 hour. Serve cold or at room temperature.