Burghul Bi Banadoura – Bulgur wheat in tomato sauce
2018-03-02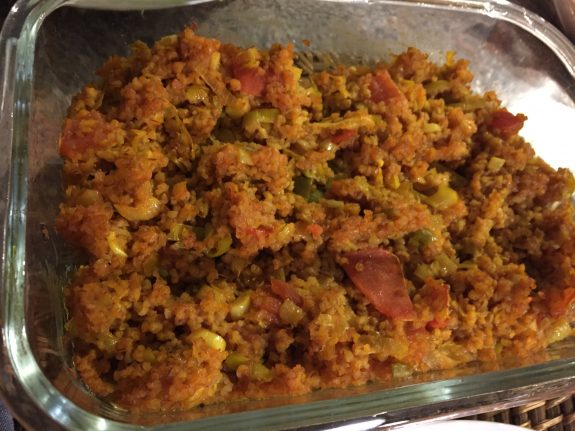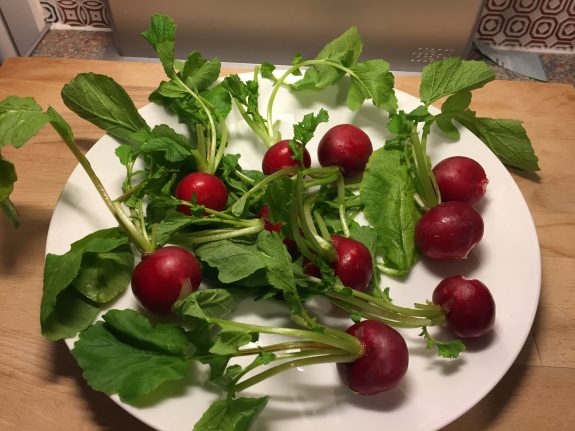 Burghul is ground wheat that has been parboiled and dried beforehand. It comes in finer and larger grains and is either white or brown (whole wheat).
The finer grains are used for tabboulé and kebbé (see recipes) whereas in this recipe a brown bulgur with coarse grains is used.
The fine bulgur does not need cooking. It needs only to be soaked in water until the grains are tender.
The coarse bulgur needs also to be soaked in water (around 15 mn) before cooking
NB: when soaked, the bulgur almost doubles in volume.
This recipe is a vegetarian dish par excellence. I have done it my own by adding some vegetables; to make it healthier!
In Lebanon it is used as a main dish and eaten with, on the side, yoghurt and some raw vegetables such as radishes, rocket leaves, spring onions….
Of course, It is also A perfect side dish.
Ingredients
1 cup of dry coarse brown or white bulgur
1 onion, finely diced
3 gloves of garlic, finely chopped
1 branch of celery, finely chopped
1 leek, finely chopped
1 red bell pepper, finely diced
1/2 red chili (optional), chopped
400g of tinned tomatoes or fresh tomatoes
1/2 tsp of turmeric (healthy supplement)
2 or 3 tbsp of olive oil + 1 tbsp for drizzling
Salt and pepper, to taste
Method
Step 1
Soak the bulgur in cold water for at least 15 minutes. Then drain and put aside.
Step 2
Put a pan on medium heat, add and heat the olive oil then add the onions. When the onions are golden, add the garlic, celery, leek and bell pepper.
Step 3
Stir fry for few minutes then add the tomatoes and the seasoning. Pour 1 cup of water (or more, depending on the amount of tomato sauce) then add the drained bulgur. Mix everything and let il simmer on low heat until the bulgur has absorbed all the sauce and is tender.
Step 4
Before serving, drizzle with olive oil. Serve hot or at room temperature. Accompany with yogurt and/or raw greens.