Rocket (Arugula or Rucola) Salad with Parmesan
2019-03-13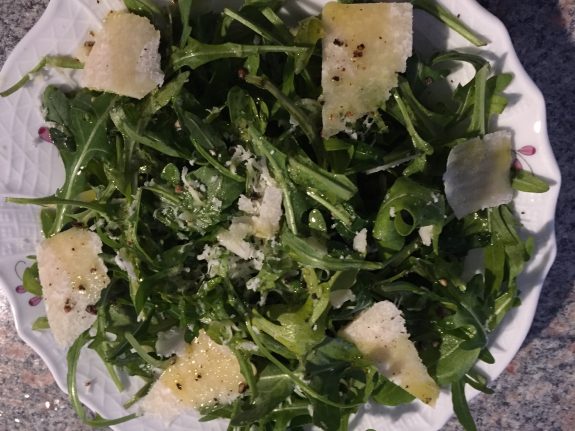 This peppery plant is full of healthy benefits such as vitamins K, C and A. In addition, it contains fibre, folate and iron. It also contains 2 antioxidants that boost eyesight and protect the macula of your eyes from degeneration!
There are 2 types of rocket salad: the common rocket and the wild Italian rocket. The latter is easily found in all UK supermarkets.
And it is so easy to prepare! With only 3 ingredients! Parmesan cheese, olive oil and coarsely grounded black pepper.
Ingredients
About 60g of wild rocket, washed and left whole
2 full tbsp of finely grated Parmesan cheese + some shavings of Parmesan to top
1 or 2 tbsp of olive oil
Coarsely grounded black pepper, to taste
Salt is optional as the cheese is already salted
Method
Step 1
In a salad bowl, combine the grated Parmesan cheese with olive oil and some black pepper. Add the rocket salad and mix well. Transfer the salad to a serving platter, top with Parmesan shavings and some more black pepper.
Step 2
Simple, elegant and ????!