Potato Croquettes
2017-07-25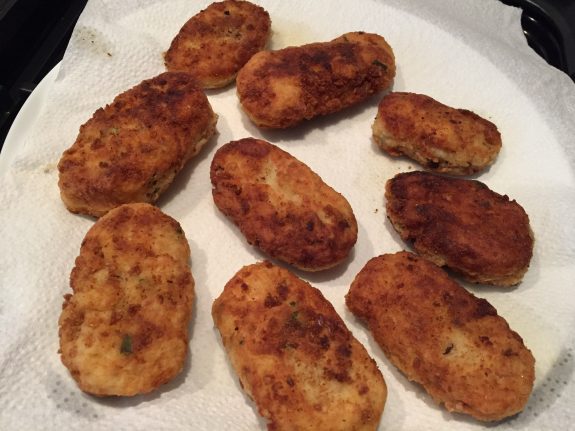 Croquettes are tasty and look nicer and more elegant than normal mashed potatoes and are a great accompaniment to meat, fish or chicken. They can also be eaten on their own, smothered with a spicy tomato sauce or any other sauce of your choice.
Croquettes can be prepared from scratch or from a leftover of mashed potatoes. In this last case, just add the ingredients that are lacking.
Ingredients
About 1 kg of peeled, diced, salted and boiled potatoes
2 eggs
About 100 ml of fresh cream
100g of grated cheese (gruyère, parmesan or cheddar)
3 tbsp of fine breadcrumbs (to mix with the mash)
1 tsp of garlic powder
1/2 tsp of turmeric (healthy supplement)
White pepper and salt, to taste
Enough flour and breadcrumbs for coating
Vegetable oil for frying
Method
Step 1
Drain and mash thoroughly the potatoes then add the cream, the egg, the grated cheese, the breadcrumbs and finally the seasonings. The mixture must be firm. Add more breadcrumbs if necessary.
Step 2
Leave to cool then shape the mixture into croquettes (finger shaped).
Step 3
Prepare 3 plates: one with flour, one with a beaten egg and another one with breadcrumbs. Dip each croquette first in the flour then in the egg and finally in the breadcrumbs. Make sure the croquettes are well coated.
Step 4
Shallow fry the croquettes in vegetable oil, turning regularly until golden brown. Or deep fry them. Once fried, drain well on paper towel and serve hot.