Hommos (purée of chickpeas with tahini)
2017-03-07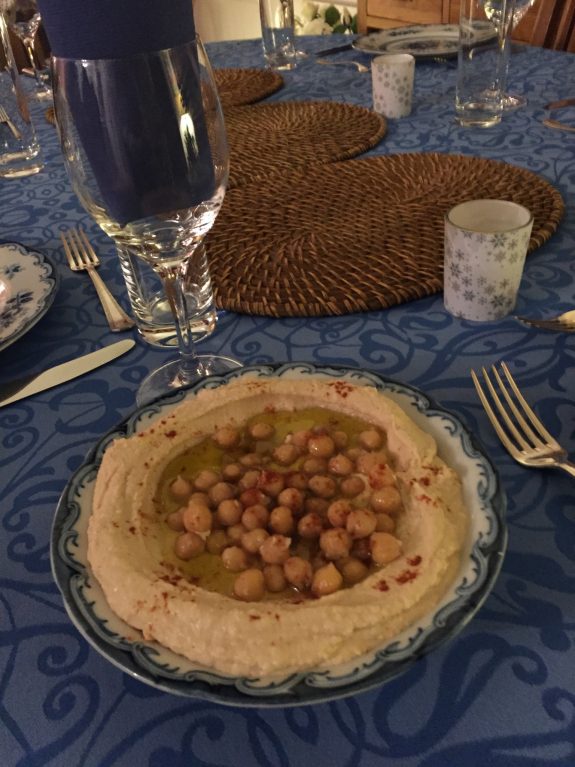 Hommos is part of the Lebanese mezze and has become, in the recent years, one of the most known side dishes abroad. You can buy it ready made in most supermarkets in Europe but the home made one, made from scratch, will taste best! For this, I always use the dried chickpeas instead of the tinned ones.
I soak the dried chickpeas in water with 2 tbsp of bicarbonate of soda, overnight. Next day, I rinse the chickpeas then add fresh water and cook it until it becomes very tender.
I usually cook a whole batch of chickpeas and freeze what I won't use for another time.
Ingredients
3 cups of cooked chickpeas
Around 1/3 cup of tahini (sesame paste)
3 big cloves of garlic (mashed)
Around 1/4 cup of lemon juice
Salt (to taste)
2 or 3 tbsp of olive oil (to add on top of the hommos)
Method
Step 1
Put the chickpeas (reserve one small handful for decoration) in the food processor together with all the other ingredients and whirl until the mix becomes a smooth and creamy like paste. Adjust the taste if needed and add a little bit of water (cooking liquid) if too dense.
Step 2
Serve in a slightly deep dish, decorate with the whole chickpeas, drizzle the top with some olive oil and sprinkle with small pinches of paprika.