Zucchini and Bell Pepper Frittata (Italian egg-based dish)
2018-04-26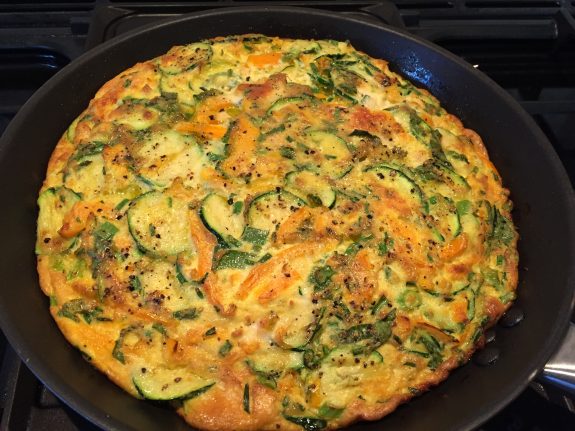 Frittata is an Italian sort of unfolded omelette done with beaten eggs fried with vegetables or cheeses or meats or any other combination of ingredients.
Frittata is cooked in an oven-safe skillet because, unlike the omelette, it starts on the stove top but finishes to cook in the oven.
it is easy and quick to cook and is perfect for a brunch, a picnic or a "take with you" lunch. It is good to eat warm or cold.
The recipe herein is vegetarian.
Ingredients
6 large eggs, organic or free range, beaten with 75 ml of cream and salt
1 medium onion, finely diced or 4 spring onions, finely chopped
3 garlic cloves, minced
1 large bell pepper (any colour), julienned
1 large zucchini or courgette, cut into thin round slices
1 small handful of parsley and/or basil, finely chopped
1/2 tsp of nutmeg + 1/2 tsp of turmeric (healthy supplement)
2 or 3 tbsp of olive oil
Black pepper (freshly milled)
Method
Step 1
After having beaten the eggs with cream and salt, toss in all the other ingredients except the olive oil. Mix well.
Step 2
Heat the olive oil in an ovenproof skillet then pour in the eggs mix and cook over a medium heat. When the bottom is cooked, remove the skillet from the stove and place it in the oven ( heated in advance to 180 C).
Step 3
Cook until the top has a light golden colour. Serve warm or cold, with a side of green salad.