Ossobuco & Gremolata (Italian Cross-Cut Shanks)
2019-12-11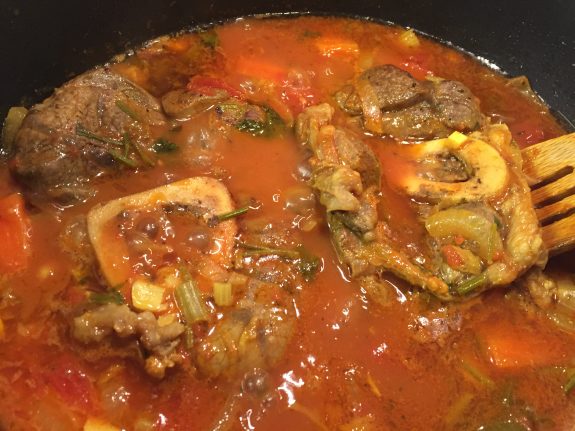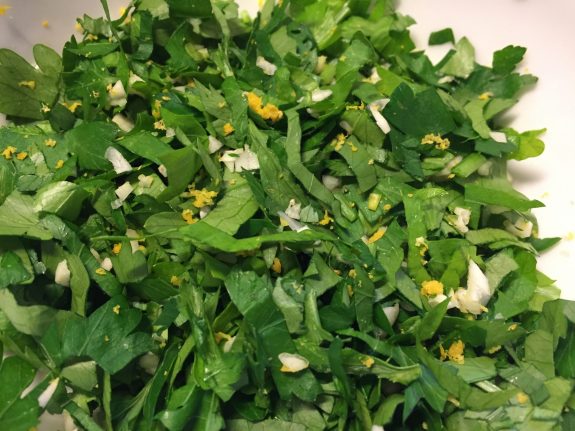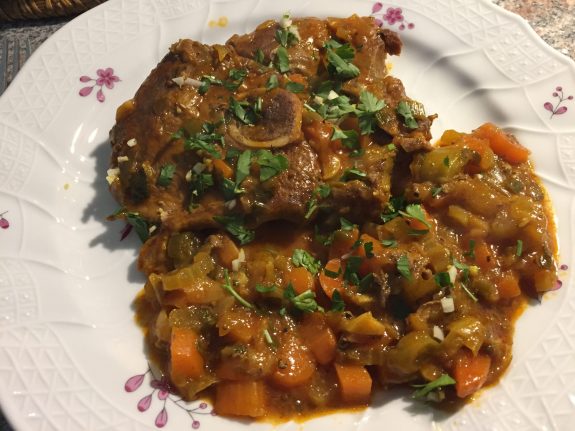 Ossobuco is a speciality of Lombard, a region in Italy. The cross-cut shanks (usually veal meat) are cooked with some vegetables, white wine and broth. It is garnished with Gremolata, a mix of parsley, garlic & lemon zest. It is usually served with either polenta or risotto. I like to serve it With tagliatelle pasta.
If you can't find veal, ask your butcher for cross-cut beef shanks instead (with the bone and marrow in the middle).
Ingredients
2 cross-cut veal or beef shanks (approximately 300/350g each)
2 tbsp of flour mixed with 1 tsp of turmeric (healthy supplement)
3 or 4 tbsp of olive oil
1 large onion, chopped + 3 garlic cloves, minced
1 stick of green celery, chopped
1 large carrot or 2 smaller, diced
1 or 2 glug of white wine
1 can of peeled Italian tomatoes + 1 tsp of tomato paste
1 organic beef stock cube diluted in half cup of hot water
2 bay leaves
Salt & pepper, to taste
Method
Step 1
Dust the shanks with flour. Heat the olive oil in a large skillet over a medium-high heat and fry the shanks on both sides. When slightly browned, remove and put aside.
Step 2
In the same skillet, cook first the onions and garlic then add the carrots and celery. Return the shanks to the skillet, add the white wine and simmer for about 10 minutes.
Step 3
Dilute the beef stock and tomato paste in half cup of hot water then pour over the shanks with the diced tinned tomatoes. Add the bay Leaves and season with salt & pepper. Cover and continue to cook over low heat for approximately 2 hours or until the meat is really tender but still holding to the bone.
Step 4
To prepare Gremolata, finely cut 1 handful of fresh flat leaf parsley and mix it with 1 minced garlic clove and the zest of 1 lemon. Sprinkle the Gremolata over the shanks just before serving.