Kafta bil Saynieh – Oven Baked Minced Meat Patties and Vegetables
2018-09-11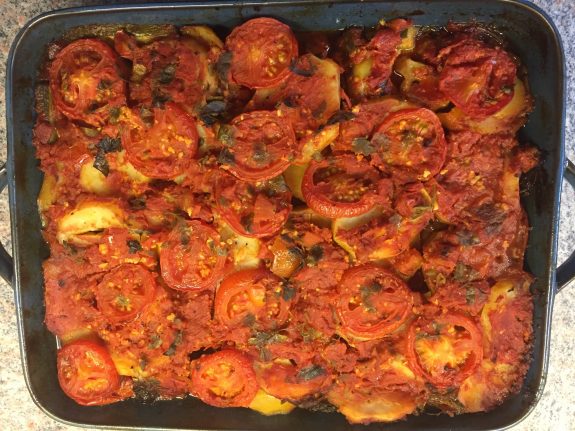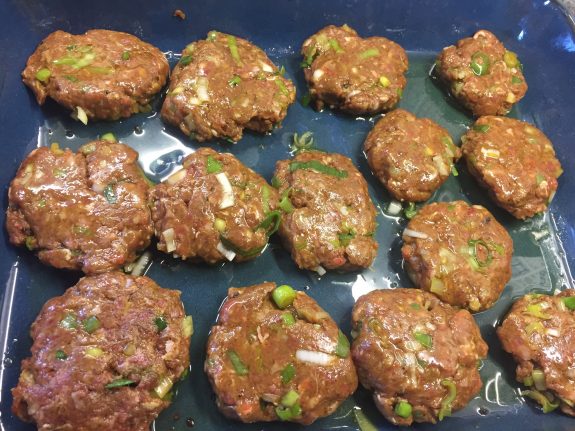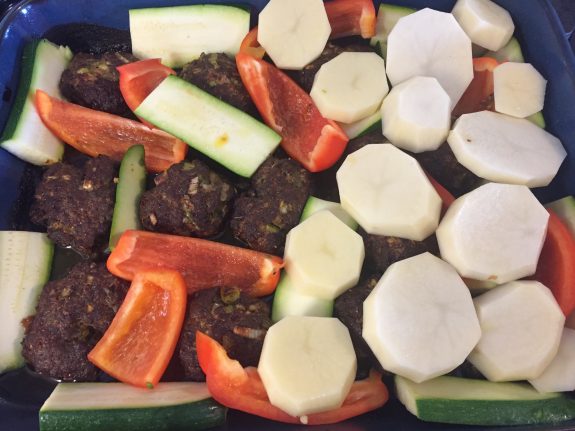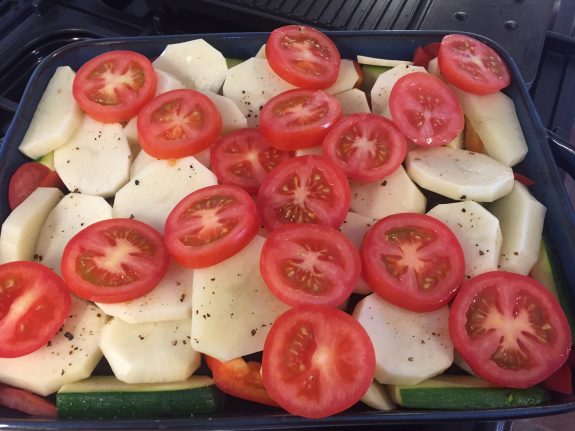 This is my version of this very popular and hearty Lebanese dish. Usually, it is made with minced meat (lamb or beef), potatoes and tomatoes. But I always favour the addition of more vegetables.
The vegetables I usually add do not have a strong flavour. Therefore, it does not spoil the original taste but, on the contrary, enhances it and makes it healthier.
Ingredients
500g of minced lamb or beef
1 medium size onion or 3 spring onions, finely chopped
1 handful of fresh parsley, finely chopped
1/2 tsp of each of the following: salt, garlic powder, allspice, cinnamon, nutmeg, white pepper, turmeric (healthy supplement)
3 tbsp of olive oil
1 bell pepper, cut into wedges
2 courgettes, cut into large slices
4 or more potatoes, peeled and cut into round slices
4 tomatoes, finely sliced (round slices)
1 tin of chopped tomatoes + 1 tbsp of tomato paste mixed with half a cup of water
4 garlic cloves, finely chopped + 2 sprigs of thyme
A squeeze of lemon
Salt, black pepper and 1/2 tsp of turmeric for the tomato sauce
Olive oil, to drizzle on top before baking
Method
Step 1
Mix the minced meat with the finely chopped onion, parsley and spices. Do the patties, put them in an ovenproof dish (large enough to contain later on the vegetables), drizzle with olive oil and bake until they are golden brown. Put aside when done.
Step 2
While the patties are baking, cut the pepper and the courgettes lengthwise into 8 pieces then cut the potatoes and tomatoes into round slices.
Step 3
In a bowl, mix the tin chopped tomatoes with the diluted tomato paste, garlic, thyme, turmeric, salt, pepper and a squeeze of lemon.
Step 4
To assemble, place first the peppers and the courgettes between the patties, cover all by the potato slices, place the tomato slices on top then pour the tomato mixture all over. Drizzle with some olive oil, cover with aluminium foil and bake in a 180C oven until the potatoes are cooked (around 35 minutes). Remove the foil and bake further for 5 minutes before taking the dish out.
Step 5
Serve with a green salad.