Chicken Drumsticks & 5 Vegetables Casserole
2018-02-17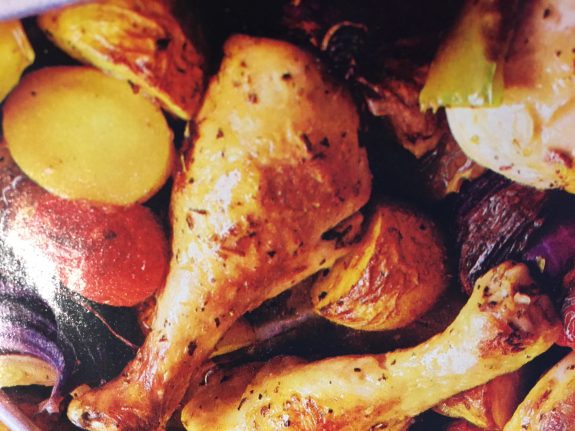 Chicken drumsticks and your five a day in one go! This comfort dish is quick to prepare and so good, taste and nutrition wise.
For a healthier version, remove the skin on the drumsticks.
Ingredients
8 or 12 chicken drumsticks ( 2 or 3 per person)
4 shallots, cut in half
2 medium turnips, cut each into 4 chunks
Around a dozen or more of baby potatoes, skin on and cut in two
One handful or more of raw broccoli florets
Around 300g of cherry tomatoes, left whole
2 bell peppers (any colour), chopped
6 peeled cloves of garlic, left whole
white pepper, paprika and turmeric (1/2 tsp of each)
1 tbsp of sumac or a squeeze of lemon
1 tsp of za'atar or dried thyme
1 tbsp of garlic powder
A glug of olive oil
Salt, to taste
Method
Step 1
Preheat the oven to 200 C.
Step 2
In a large roasting dish, toss the drumsticks, the vegetables, the spices and the herbs with the olive oil. Spread the mixture evenly and cook in the oven for approximately 45 minutes or until the chicken is well cooked.
Step 3
Serve hot, adding the juice from the roasting dish; with a green salad on the side.